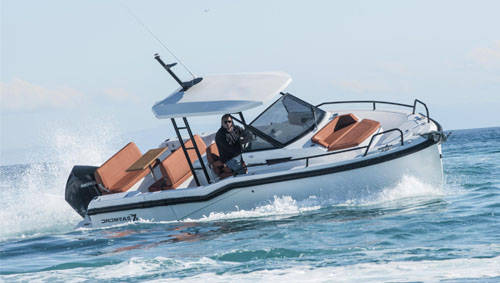 Båtliv: Turkish challengers premiere in Sweden
Dromeas Yachts is launched in Sweden and Scandinavia. The model program is well suited for Swedish conditions and is suitable for both those who use a boat professionally daily in all weathers and for family holidays. To begin with, the D28 SUV and D28 WA can be seen in Stockholm.
The D28 WA premiered in May while the D28 SUV will be launched in June. The larger D33 SUV and D33 WA will premiere at the Cannes Boat Show in September, shortly afterwards the first 33-foot demo boats will be available in Scandinavia.
Dromeas (Greek runners) are fast boats. Dromeas Yachts has been manufacturing the D33 HT and D28 CC models since 2017 in its own production facility outside Izmir in Turkey. The Englishman Adam Younger is behind the hull design of all boat models from Dromeas Yachts. The hull has tapered steps, which means that the depth of the steps in the hull decreases towards the hull side. This means that the hull both takes to sea and has better performance than traditionally stepped hulls.
Pricing is very competitive. The D28SUV and D28 WA are spacious below deck and have room for more social space on the front and aft decks than some competitors in the same class.
D28 SUV is developed with a focus on safety, comfort and speed. The tires can be configured in a variety of ways with large social areas on the foredeck and seating with tables on the aft deck near the wetbar. The D28 SUV has a nice front cabin for two people and a spacious separate toilet. In the wheelhouse it is also possible to convert a sofa and chairs into a bunk. The unique two-stage hull provides excellent seaworthiness. A modular system allows you to adjust the tire layout when ordering.